Yesterday, Wednesday, 2 August 2017, Neymar informed his teammates he is leaving Barcelona, a club spokesperson confirmed today, as his potential world record move to Paris Saint-Germain moved a step closer.
"The player came to train as scheduled and announced to his teammates that he is leaving," said the source.
"The coach has given him permission to not train and to manage resolving his future."
Speculation over the 25-year-old's future has dominated the first few weeks of new Barca boss Ernesto Valverde's reign with PSG reportedly willing to pay Neymar's 222 million euro (USD 260 million) buyout clause.
Such a fee would smash the current record 89.3 million (USD 111 million, 105.2 million euros) Manchester United paid for Paul Pogba last year. Neymar arrived back in Barcelona on Tuesday from a fleeting promotional tour to China.
Barcelona said in a statement: "Neymar Jr, accompanied by his father and representative, has told FC Barcelona this morning on his decision to leave the club in a meeting. The club has informed them that it refers to the termination clause of its current contract, 222 million euros, and that it must be paid in full."
The 25-year-old forward was travelling back from China and had earlier posted a video on social media apparently from Dubai airport, amid suggestions that he could have been bound for Paris. He has remained silent while rumours swirl that he will join the French club, who are reportedly ready to pay the 222 million-euro ($260 million) buyout clause in his contract at the Camp Nou.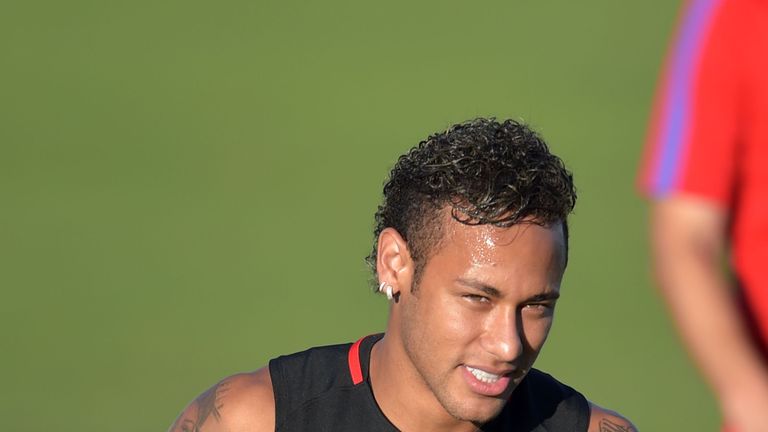 Neymar, who was in Shanghai on Monday fulfilling a sponsor's engagement, had also posted a photo on Instagram with the caption in Portuguese: "Lunch at half-way". In another video posted from an aeroplane, Neymar joked around with an image messaging app that superimposed a Spanish flag and a small plane on his tee-shirt — suggesting he was indeed headed home to Barcelona. The decor in that video was identifiable as from an Emirates aeroplane.
Earlier reports claimed that he was headed from China to Doha to meet PSG's Qatari owners and pass a medical before a world-record transfer. But his being on an Emirates plane ruled out Doha as a possible destination given the diplomatic crisis between Qatar and its Gulf neighbours.
And Neymar finally landed in Barcelona just before 9:00pm local time (1900 GMT), taking a backdoor exit to avoid the dozens of journalists and a few supporters — some wearing PSG shirts — who had been awaiting his arrival. A video filmed by a passenger and broadcast on Catalan television channel TV3 shows Neymar in an area reserved for flight crew. He is wearing headphones and avoids responding to fans asking if he is staying with Barcelona.
The contract Neymar signed with Barca also increased an early termination clause from 200 to 222 million euros, a sum which PSG are reportedly willing to pay.
Neymar first made his name at Santos, the former club of Brazil legend Pele, with whom he won the Copa Libertadores and Brazilian Cup. A big-money move to Barca followed in 2013 as 56,000 fans turned up for his official unveiling at the Camp Nou.
In his four years with the Catalans he has won the Champions League in 2015, La Liga twice, the Spanish Cup three times and one FIFA Club World Cup. Last year he also helped Brazil on home soil win the Olympic title for the first time.
For every action, there are consequences, and this was rightly expressed by Manchester United manager Jose Mourinho believes the record-breaking 222 million euro ($260 million) transfer fee Paris Saint-Germain (PSG) are willing to pay for Neymar  will cause a ripple effect of sort. "When we signed Paul Pogba, I said he was not expensive," Mourinho said. "Expensive are the ones that get to a certain level without a certain quality. I don't think £200 million for Neymar is expensive. Expensive is the fact there will now be more players at £100m, more players at £50m, more players at £60m — that's the problem. Neymar is one of the best players in the world, so commercially that is very strong but the problem is not Neymar — the problem is the consequences" Mourinho said.
Well, personally as an FC Barcelona fan, I don't want to imagine a Barcelona without Neymar, but I make do with the possibility that he could return to Barcelona someday as a more experienced player. Until then, it' most times all about the money.